THE PARISH CHURCH OF ST. AELIW (OR AELRHIW)1 (Fig. 108, Plates 12, 40), stands on the eastern side of Mynydd Rhiw, well to the N. of the modern village. The building has boulder-built walls and a modern slate roof. The structure is of one build, probably of the 18th century but on the footings of an earlier church, perhaps transeptal.
The present unusual plan is the same as that described in the earliest terrier, of 1776. It consists of a small nave and a short chancel of equal width, with relatively large transepts or aisles to N. and S. In the E. and W. end walls are indications of earlier openings at a lower level. The roof trusses and furnishings belong to extensive restoration in 1860-1.2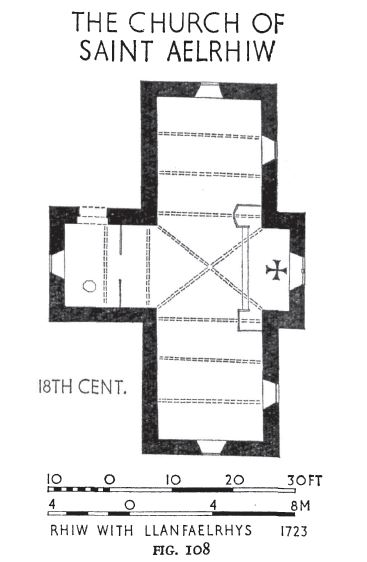 Fittings.-Books: for registers see p. cxxxviii. Chest: plain, inscribed 1715/ W / RH/ W I ; 18th century. Memorial: slab, re-set against inner face of W. wall, to Lowry, daughter of Thomas ap Richard of Bodwythog, 1674, also her husband Frederick Wynne of Bodvean; above, a shield-of-arms, Collwyn ap Tangno (for Wynne of Boduan), with crescent for difference, and a skull and cross-bones. Plate: (i) Silver cup, plain straight-sided bowl inscribed 'Rhiw / This was
provided by / Fredericke Wynne Warden / Anno Dni 1672′; maker's mark GB and London date-letter for 1671-2; height 6 ins. (ii) Pewter flagon (Plate 40), inscribed 'This was provided by Frederick Wyome[sic] for the f Parish Church of Rhiw Anno Domini 1662′.
Condition: good.
SH 23412865                                5 xii 59                                              44 N.W.
Rhannwch - Share and Enjoy