PLAS-YN-RHIW (Fig. lIO, Plate 48), an early 17thcentury house, originally with two storeys and a loft. The house was extended to the N.E., probably in the 18th century, in roughly coursed masonry, and later heightened, the latter alteration probably coinciding with the addition of a colonnaded verandah and a low-pitched slate roof with overhanging eaves in the early 19th century. A wing was also added on the N.W. The stucco formerly covering the main E. front has been recently removed so that the breaks in masonry both vertical and horizontal can easily be detected. Over the ground-floor window on the E. front in the reconstructed portion of the house is a 19th-century inscription 'LL. 1634'1 which may reproduce an earlier original and represent the date of the house.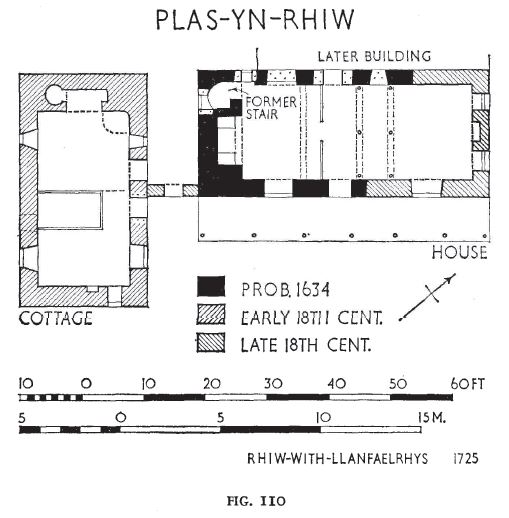 The interior has been much altered. There is a wide fireplace
at the S.W. gable with a recess for a winding stair. The
stair between the ground floor and the first floor has been
taken out, but survives between the first and second floors.
There are several chamfered beams with rounded stops, and
at the first floor some joists with shallow mouldings on the
soffits have been exposed. Slots in the soffit of a beam to the
first-floor ceiling at the S.W. end of the building reveal
the site of an early partition. The former loft has been
converted into a second storey proper by raising the eaves as
described.
To S. of the house and at right-angles is a crogloffi cottage,
probably 18th-century, with dormered loft. The interior has
been altered and the main room was at one time used as a
bake-house and wash-house.
To the N. of the house are ruined outbuildings of 18th- 19th-century date.
1 Probably for John Lewis, see Griffith, Ped., po 174.
Condition: good.
SH23652825                                27i55                                   44 S.W.
Rhannwch - Share and Enjoy