THE CHURCH OF ST. MAELRHYS (Fig. 109, Plate 26)1 is a rectangular aisleless building, the E. portion added or enlarged from a smaller chancel. The walls are of rubble with boulder footings partly exposed. The slate roof and bell-cote are modern. Existing openings are modern, though there are blocked doorways near the W. end on the N. and S. and blocked lights towards the E. end of the N. wall.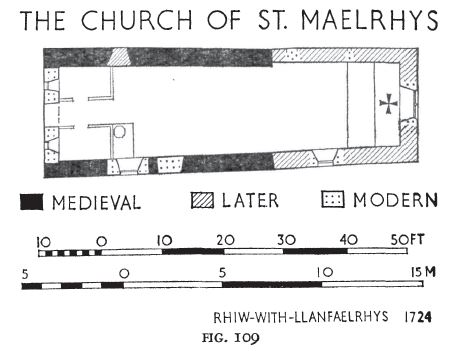 The  Nave  and Chancel (57 ft. 10 ins. by 14 ft.) abut without clear joints, but the internal set-back in the N. wall and an external change of alignment in the S. wall indicate the probable junctions. These features also establish that the chancel was added to the medieval nave, but there is nothing by which it might be dated. Both N. and S. walls of the nave are battered internally. The N. doorway has a roughly pointed head of long large voussoirs, probably medieval, the blocking perhaps contemporary with the opening of the S. doorway which has a segmental head of thinner voussoirs, possibly post-medieval. The blocking of this doorway may be associated with the modern rebuilding of the W. gable which has the present entry and windows to the vestries.
Fittings.-Books: for registers sce p. cxxxv. Communion Table: in vestry, with baluster-type turned legs and moulded stretchers, the top reduced; early 18th century. Font: an irregular octagonal stone bowl (Plate 26), the N. face bearing incised a cross formee; the short shaft has a roughly moulded string, and the base is splayed; 15th-century. Seating: boxpews on the S. and plain benches on the N. side inscribed
'Nanhoron'; mid-19th-century.
Rhannwch - Share and Enjoy