(1684) THE PARISH CHURCH OF ST. MARY (Fig. 99, Plate 34) stands near the S. end of the parish and is reached from the farmyard beside Plas-ym-Mhenllech (No. 1685), the direct approach from the S.E. having been closed. The church has no division other than a chancel step, part of which remains beneath the pulpit. The walls are built of rubble. The slate roof is modern.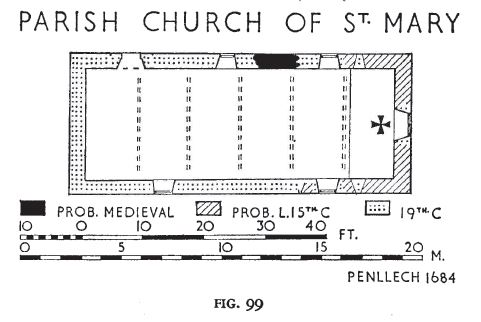 The church was partly rebuilt in 1840; most of the S. and W. walls and all the existing openings appear to be of this date, which is cut on the door and on one of the roof trusses. In the older, roughly coursed, masonry remaining mostly in the lower part of the N. wall the junction between nave and chancel has been masked by patching, but there is enough difference between the two to suggest that they were built in succession as in other churches of this region. As the chancel
bears traces of three slit windows it seems likely that both parts were medieval in origin.1
Fittings.-Books: register, etc., see p. cxxxvii. Communion table: with turned legs, 18th-century. Communion rails: plain, early 19th-century. Font: plain cylindrical bowl, 2 ft. in diameter, standing on modem square base; bowl possibly medieval. A stone drum, I I.5 ins. in diameter, I ft. 2 ins. high, roughly squared at base and kept beside the font, is probably the original stand, or part of it. Plate: (i) Plain silver chalice with deep beaker-shaped bowl on truncated stem; height 7.5 ins. London date-letter, 1710-11; maker's mark illegible. (ii) Paten
of old Sheffield plate, with gadrooned border. on three feet; diameter 8 ins. Probably early 19th-century.2 Pulpit (Plate 34): octagonal, panelled, with suspended sounding board, decorated with fret and moulding at edge, eight-rayed sun in relief beneath; early 19th-century. Contemporary reading desk
beside it. Seating: to the E. are three panelled box-pews; to the
W. the rest is of fixed open benches; all early I 9th-century.
Condition: partly rebuilt, good.
SH 21993440                                     24 Xii 59                     39 S.W.
Rhannwch - Share and Enjoy