House of two storeys, originally of the late 16th or early 17th century but subsequently much altered. It became the seat of Love Parry the second (1696-1759), who added a cross-wing which was taken down shortly after 1800 (see The Cottage, No. 1572). REF 1. There is an added 19th – century wing on the S.W. with a later outbuilding on the N. REF 1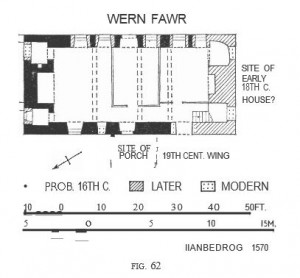 The original house is 16th century is rubble-built with large quoin stones; its roof has old coarse slates but has been much repaired. The main (E.) front (Plate 47) retains its cavetto-moulded eaves course and its entrance doorway (Plate 52) with four-centred head and hood-mould, the head and jambs wave-moulded; the windows are tall, probably 18th century.
The chimney stack on the N. gable is diagonal to the ridge and has a cavetto-moulded capstone. The W. front retains its eaves course like the E. front, and opposite the E. door a similar doorway without moulding or hood; to the N. is a slot and pilaster-like projection apparently for an outer doorway in a former porch. The present
doorway over this and the windows to the N. are modern; the rest is obscured by the S.W. wing. The S. gable has been largely rebuilt together with its tall rectangular chimney stack . On the ground floor there are large fireplaces at both ends,at the N. under an elliptical arch, that at the S. blocked; both are flanked by large recesses with small windows, that at the S . E. possibly for the former stair. A post-and-panel partition forms the N. side of the S. room. On the first floor the S. room has an exposed ceiling beam with fluted moulding on the soffit, probably late 16th century, and also reset panelling and door with raised fields and bolection moulding,probably early 18th century. The roof has some early timbers but has undergone several reconstructions.
Condition: good, roof restored.
SH 32313341
8 ix 55
40 SW
REF 1
Hall, p.289, and Mrs. (Barbara) Yale of The Cottage, Llanbedrog, in litt.; drawing of 1793 in N.L.W., ace. no . PA 8245 . Dwnn,H, pp.179 and 281 (No. CCXV, Ty'n-y-coed, Llannor), both pedigrees implying residence from the 15th century, with fifth or sixth generation from Trahaearn Goch; Griffith, Ped., pp. 224, 278, 396.
Rhannwch - Share and Enjoy