House of two storeys, probably of the late 16thor early 17th century, with added outbuildings at both ends probably of the later 17th century or the 18th. The walls are of roughly coursed rubble on a base of boulders, the roofs covered with small coarse slates. The house has small windows, nearly square, the two semi-dormers on the E. front only slightly raised above the eaves. Apart from the dormers every opening, including a blocked upper window in the N. gable, has a rough stone head, that of the lower N.W. window projecting as a dripstone. The W. front has a projecting eaves course, but the E. front has none. The chimney stacks, rectangular and squat, are both additional; the base of the original projecting stack remains at the S.W its shaft roofed over, and has been cut through to form a doorway.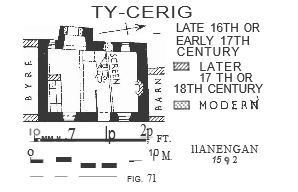 The ground floor contains one exposed chamfered ceiling beam at the S. while against the hidden N. beam is set part of a post-and-panel screen of the late 16th or early 17th century. The screen is probably in situ and may originally have formed part of a full partition to the N. room. The original fireplace in the W. wall of the S. room has a straight chamfered bressummer of timber.
Additional features are the gable-end fireplace, the screen of in-and-out panelling and the ceiling, all in the S. room, the central stair, and the fireplace in the N. room. These alterations probably date from the early 18th century, when the dormer windows in the E. front replaced the upper window in the N. gable to light a full first floor instead of an original halfloft. The roof rests on two trusses of large timber chamfered at the edges, but the collars are concealed.
Condition: good.
SH29182693
1 ix 59
45 SW
Rhannwch - Share and Enjoy