The earliest surviving Nonconformist chapel in N. Wales. It belonged to the Independents (Congregationalists), whose earliest centre in the county was Pwllheli. About the middle of the 18th century a small local group broke away from Pwllheli, and in July 1769 bought the land on which the chapel stands. The building was licensed on 6th October, 1769, and remained in regular use until 1872, by which time a movement of population had caused the building of Capel Horeb in Mynytho.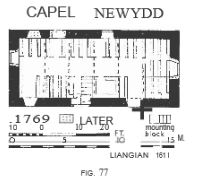 The chapel was in danger of falling into ruin, but in 1956 funds were raised to restore it. This was most carefully done; the old slates were re-used and the earth floor retained; it was re-opened in July 1958. Although outwardly it is little altered, its present planning arrangements are modifications made at an early date. When built, the chapel was very unusual in having a single central door, where the pulpit now stands. The former position of the pulpit is not clear; it is more likely to have been at the side of the entrance than on the opposite S. wall where the large box pews almost certainly belonged to Mrs. Catherine Edwards of Nanhoron (No. 1615) who joined the community after her husband's death in 1780. Probably early in the 19th century the chapel was altered to a more usual plan; two windows in the N. wall were converted to doorways, the central entrance was blocked, and the pulpit adapted to fit its present position, where it is lighted by a window at a high level. Other alterations included the blocking of one window in the S. wall and the provision of another further to the W., together with windows in each end wall. The seating, which is arranged on each side of a wide earth-floored aisle, is entirely formed of box pews. These have been repaired, patched and extended with a variety of panelling. The roof is of simple form with plain straight tic-beams; the original flat purl ins survive in the N. half Some timbers were replaced in the recent repairs. Fittings.-Bier: plain wooden, 19th-century. Catldelabra: two, of turned wood and brass, 18th-century (Plate 42). Collecting shovels: two, wooden, 19th-century. On the E. and S. is a small graveyard.
Ref 1 – Trans. Caems. His!. Soc., XVI (195 _ '), pp. 60-2; XX (1959), pp. 65-71. Arch. Camb., 1956, pp. 142-4.
Condition: good
SH28583091
26 vii 58
NE
Rhannwch - Share and Enjoy