PENHYDDGAN (Fig. 58, plate 46) is a house of two storeys dating from the early 17th century. The walls are of roughly coursed boulders with boulder plinth at the gable ends and large quoins squared at the angles. The roof is of small slates, perhaps original. The porch is contemporary with the main part of the house; it contained the stair, which has been replaced by a modem one of wood. A small single-storey addition, probably 18th-century or earlier, occupies the re-entrant angle to the N.
Both the doorway to the porch and a doorway on the S.W. front (altered into a window) have rounded heads. The windows are for the most part of horizontal proportion or square; one to the N. of the altered S.W. doorway has been made into a doorway. The N.E. wing is lighted by a square window high in the gable and by a narrow light over the entrance. The square squat chimney on each main gable
has a moulded course, above which rises a tall brick stack with
capping.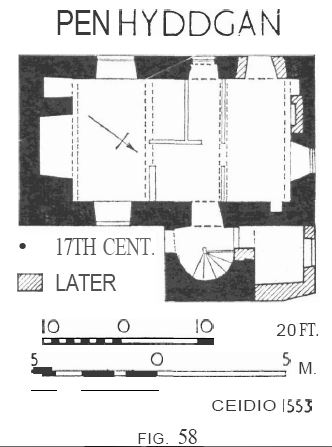 The ground floor is ceiled in three bays, two to the main room, the other formerly a room separated by a partition pegged into the beam; all present subdivisions are modern. No chamfers or stops of the main beams are now visible, but the joists, mostly original though disturbed, are moulded only on the soffits. The wide fireplace at the S.E. has a chamfered and moulded bressummer with indented soffit.
The first floor may formerly have been open to the roof which is said to have carved timbers but is inaccessible. The fireplace at the S.E. is now blocked; the recess on each side of the chimney projection has a small light. In the adjoining yard is a circular stone-lined well.
Condition: good.
SH 30243867                      18 x 56                                                 32 S.W.
Rhannwch - Share and Enjoy