(1680) THE PARISH CHURCH OF ST. MARY (Fig. 97, Plates 25, 37) consists of undivided nave and chancel with a square tower at the W. end. The N. porch is later, added when the original entrance through a doorway in the W. wall of the tower was converted into a window, but apart from this the whole structure of the church including its wooden fittings appears to be contemporary with the rebuilding recorded ca. 1825.1 The walls are of rubble with larger quoin stones. All openings have pointed heads. The W. wall of the tower contains an eroded freestone tablet apparently dated 1827, above which is a circular recess presumably for a clock; the top stage forms a belfry, with an opening in each face, and at each corner the parapet rises to a pinnacle. The nave and chancel have two two-light windows on the N. and S., and an E. window of three lights with contemporary stained glass. The roof is slated and carried on arch-braced collar-beam trusses.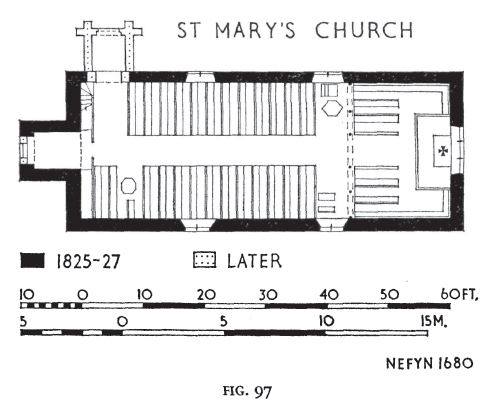 Fittings.-Books: see p. cxxxvii. Communion Rails: with pointed arcade, ca 1825. Font (Plate 25): decahedral stone with circular basin, probably medieval, on modem base. Alemorial (Plate 37): interior, loose, slate tablet to Elin Wynne, Saython, wife ofJohn Parry of Nevin, 1679. Plate: Silver paten-cover, with London date-letter for 1679; 4.2 ins. diameter.2 Pulpit, Reading Desk, and arcaded Screen, all of ca. 1825. The Weathervane, a square-rigged ship in full sail, was renewed about 1950, but is a careful copy.
The church was held by the Augustinian Canons of Haughmond Abbey from the 12th century, 3 and a prior of Nefyn is recorded in 1252.4 The fields S.E. of the church are called Bryn Mynach and Cae Mynach in the Tithe Award Schedules,5 and foundations are said to exist there, particularly beneath the slightly raised area, 50 yds. E.-W. by 25 yds., now utilised as a children's playground; the priory may have stood about here.
Condition: of church, good.
SH 30864065                                 10 v 57                                                  32 S.W.
Rhannwch - Share and Enjoy