(1695) GWYNYS (Fig. 104, plate 46) is a rubble-built house, probably dating from 1719, of two storeys with a dormered loft and a small cellar at the S. end. The W. front has a small gabled projection to the full height of the building, the ground floor forming a porch giving access to the cellar. The N. part of the W. front is obscured by a later single-storey kitchen. Above the door between the kitchen and the original house, and now concealed by the loft over the kitchen, is a stone tablet inscribed LL / H S /  R(?) M A S / YEAR OF OR LORD 1719.1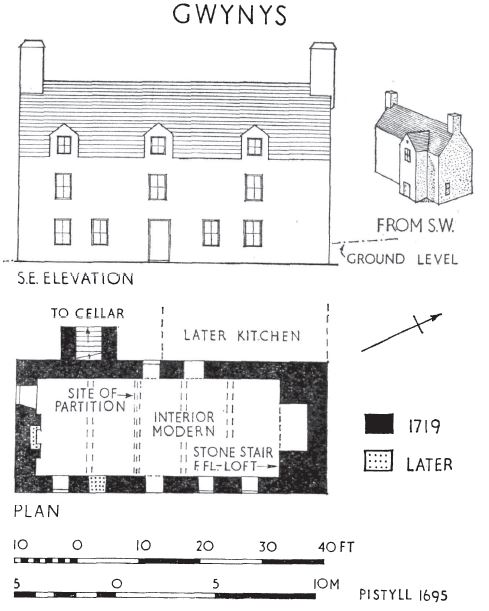 The E. front, now covered with plaster, is roughly symmetrical. It probably had two windows on the ground floor on either side of the front door, one of which has been blocked. There are three windows to the first floor and three gabled dormers to the loft. All the window openings are small and original but the casements are modern.
There is a square chimney at each gable end, that at the N. projecting slightly, and carried on corbels. The interior has been much modernised. It may have consisted of a 'hall-kitchen' to the N. where there is a wide fireplace, and a parlour to the S. The partitions to both ground and first floor are recent, though slots for a partition remain in the second ceiling beam from the S. on the ground floor. The beams, roughly finished and of poor quality, may originally have been plastered. The stair between the ground and first floor is modern. An original stone stair between the first floor and attics is placed in a rectangular recess to the E. side of the main chimney. The loft is undivided. The 10ft floor in the W. projection is of plaster.2 The roof is carried on four original collar-beam trusses of rather poor workmanship, the collars being pegged flat on the principals.
Condition: good.
SH 34104157                         6 vi 56                                 32 N.E.
Rhannwch - Share and Enjoy