(1694) THE PARISH CHURCH OF ST. BEUNO (Fig. 103, plates II, 19, 24, 25) is a small undivided structure, built of local rubble with modern slate roof. The late 12th-century font is noteworthy.
The W. part of the fabric (Plate II) may be contemporary with the font although it has no early features. 1 An extension to the E. is suggested by the boulder plinth on the N. exposed by recent lowering of the floor, extending 16 ft. W. of the N.E. corner; there is a slight change of build also. The church has been twice restored,2 and the internal plaster recently removed.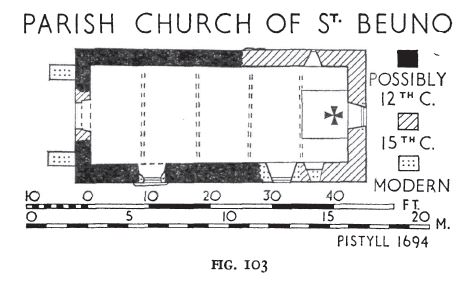 The E. window is modem, with square wooden frame and glazing bars and modem stone lintel, though the jambs are earlier. The two S. windows are modem, one being contained in the original S. doorway, now blocked; there are narrow original lights towards the E. of both N. and S. walls, the S. one now blocked.
The W. door (Plate 19) has a poorly formed four-centred head and was inserted probably in the 15th century. The tall narrow bell-cote and buttresses on the W. gable are modem.
The roof (Plate 24) consists of five plain arch-braced collarbeam trusses, with original purlins and rafters. A sixth truss against the W. wall has gone and the purlins of this bay are
modem. The eastern bay shows traces of a former canopy. In the three central bays the original horizontal panelling remains between the wall plate and lowest purlin.
Fittings.-Bell: 1735. Books: for register, see p. cxxxviii.
Font (Plate 25): Gritstone, of truncated conical form on a modem circular base. The basin is 1 ft. 2.5 ins. high, 1 ft. 10.5 ins. in diameter at top, and 2 ft. 2 ins. at base. Internally it is1  ft. 4.5 ins. in maximum diameter, and 9.5 ins. deep; it has a central drain-hole. The inclined face has a scalloped rim and rollmoulded base, and is decorated in relief by a single overlapping ring chain threaded by a horizontal band, all formed by a double row of beading. Probably late 12th-century.3 Paintings: in chancel, fragmentary and indecipherable. On the N. wall there appear to be 'patterns containing areas of red, and on the E. there is a fragmentary black-letter inscription in Welsh. Probably 16th- or 17th-century.Plate:4 Silver chalice with beaker-shaped bowl on baluster stem with splayed foot. Marks illegible, probably ca. 1640. Height 5.8 ins., diameter 3 ins. There is no trace of the pewter dish and flagon mentioned in some late 18th-century terriers. A silver flagon is mentioned in the terrier of 1801, but its weight is given as only 8 ozs. Scratching : on inside face near centre of S. wall BEVN0 603; date uncertain, but not ancient.
Condition: good, restored.
SH 32824232                                    3 xii 59                                          32 N.W.
See also under No. 1700.
Rhannwch - Share and Enjoy